International Climate Negotiations and Climate Science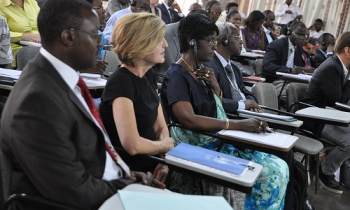 QUNO works to foster enhanced trust and understanding in international negotiations relating to climate change and environmental destruction.
QUNO has been involved with the international climate change negotiations at the United Nations Framework Convention on Climate Change (UNFCCC) since 2013. In the highly political space of the UNFCCC, we offer off-the-record quiet diplomacy discussions for climate negotiators. These discussions aim to build communication, understanding and trust between a diverse group of countries on issues sensitive to the negotiations at that time. Our presence in this space is continuously evolving in response to the needs of the negotiations and the perceived value of this work as expressed by negotiators involved. Once focused on supporting the creation of the Paris Agreement, we now hold space for discussions on effective and fair implementation of that Agreement. See our analysis of the latest COP27 (attached in this link).
QUNO is actively engaged in monitoring the work of the Subsidiary Bodies within the UNFCCC where, as members of the Research and Non-governmental Organisations constituency (RINGO), we observe the UNFCCC Committees on Adaptation, Loss and Damage and the Facilitative Working Group of the Local Communities and Indigenous Peoples Platform.  Here, we focus on the human impact of decisions made and advocate rights-based, urgent and ambitious climate action and finance to limit global temperature rise to 1.5°C above industrial levels.
We are also the only faith-based accredited observers of the Intergovernmental Panel on Climate Change (IPCC) and are expert reviewers of the IPCC reports.  Our work there is twofold. In support of urgent, fair and effective global action, we advocate for more research on sustainable and just economic, energy, agricultural and individual behaviour to transform root causes of climate change driven by human activity. Secondly, we develop publications which communicate critical IPCC climate findings to a range of audiences, including diplomats, UN colleagues, climate activists and the general public. 
A 4-minute video explaining our IPCC work (link)