QUNO Attends 54th Session of the IPCC and 14th Session of the Working Group 1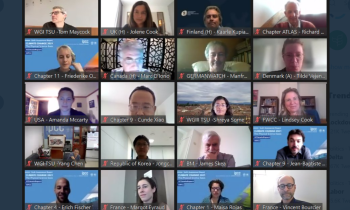 Friday marked the close of the 54th Session of the Intergovernmental Panel on Climate Change (IPCC) and 14th Session of the Working Group 1 , during which State delegates considered contributions to the IPCC's 6th Assessment Report (AR6).  QUNO, for FWCC, is one of the most active observers at IPCC Plenary meetings.  QUNO's Representative for Human Impacts of Climate Change, Lindsey Fielder Cook, was in attendance throughout  the two-week virtual meetings.
The IPCC's Assessment Reports are published approximately every 7 years, summarize the latest scientific findings on climate change, adaptation and mitigation.  Government delegates at this meeting were specifically considering the Summary for Policymakers contribution produced by Working Group 1 (WG 1), whose work focuses on the physical science underpinning past, present and future climate change. QUNO's Representative made a number of interventions during the negotiations, which can be read below.
The WG1 scientific findings will be a crucial contribution to the COP26 climate negotiations that are scheduled to happen in Glasgow, Scotland this November.  However, due to the pandemic, approved summaries on adaptation (WG2) and mitigation (WG2), as well as the Synthesis of the AR6, will not be available until 2022.
Related Files
Related Areas of Work