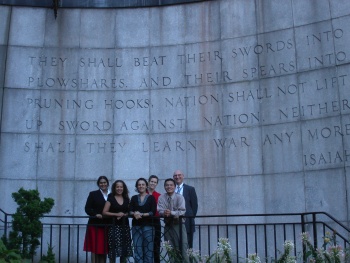 Employment Opportunities
Our New York office is now accepting applications for the positions of Director, and Outreach and Development Officer:
Director: QUNO New York is hiring for our Director position, following twelve years of dedicated service in this role by Andrew Tomlinson, who will be retiring later this year. We seek a Member of the Religious Society of Friends with a deep devotion for Quaker principles and values, and who is familiar with international and diplomatic processes, holds demonstrated experience in outreach and development, and is comfortable and experienced working in complex organizational environments, among other qualifications. Their responsibilities include advancing QUNO NY's mission through effective programmatic and administrative leadership; playing a key role in obtaining and managing financial resources (including grant management); and managing outreach and collaboration activities. For more information and to apply please visit here.
Outreach and Development Officer: This position will focus on building the base of interested and engaged supporters for QUNO New York. This is a full-time position for an experienced development and communications professional. See more details and apply here.
QUNO Geneva is no longer accepting applications for Director.
Opportunities for Young Professionals
QUNO Geneva is no longer accepting applications for 2021-2022 Programme Assistantships. 
QUNO offers between three and five Programme Assistant (PA) positions each year, two in New York and at least two in Geneva. These are entry-level positions for recent graduates who are interested in international affairs and the United Nations, and who have a commitment to Quaker principles of peace, nonviolence and equality. Learn more about becoming a Programme Assistant.
Ways to get involved
Governance - The Committees that oversee our work are made up of Quakers who volunteer to take on this guidance role. Learn more about our governance and finance.
Outreach Presentations - We can organize a presentation explaining QUNO's work to groups of Quakers or others of any age. Please contact us if you are interested.
Global Issues - New QUNO work areas have often developed through an issue being shared with local Quaker meetings and 'ascended' to Yearly Meetings and to FWCC. 
Donations
Financial donations allow us to continue our important work, and we appreciate anything you are able to give. Donate to QUNO.
Mailing List
We send out monthly updates on QUNO's work in both Geneva and New York as well as links to recent publications, newsletters and reports. If you would like to hear what's new at QUNO please join our mailing list! Sign up here.