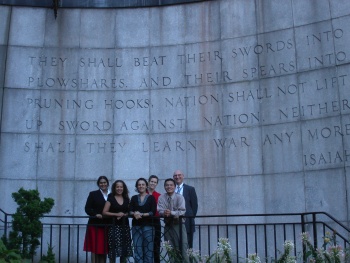 Employment Opportunities
QUNO is seeking a part-time (50%) Finance Officer to join its small staff team, based at Quaker House, 13 avenue du Mervelet, Geneva. (for full job description and how to apply click here)
QUNO is an equal opportunity employer. In keeping with the Quaker testimony of equality, we strive to be an organisation that welcomes, values, and respects the different perspectives of every individual. We embrace diversity and welcome candidates of different ethnic, racial, gender identity, sexual orientation, and religious backgrounds. 
Key competencies and qualifications: 
Swiss or EU citizenship  / Swiss employable status.
Brevet Fédéral Suisse/ or equivalent Swiss professional financial management qualification.
Demonstrated expertise and knowledge of Swiss, and specifically Geneva Canton, financial management and accounting practices including analytics by cost centres; in-depth knowledge and command of financial administration of resources, of accounting principles and of inventory management. Good judgment and analytical and conceptual abilities.
5-8 years of experience but more would be helpful due to the complexities of the job. 
Proven ability to work under pressure and produce output that is accurate, timely and of high quality.
Very strong if not fluent English and French
Opportunities for Young Professionals
QUNO New York is now accepting applications for 2023-2024 Programme Assistantships until 10 February 2023. Please use the link to view the application requirements and apply.
QUNO Geneva is no longer accepting applications for 2022-2023 Programme Assistantships.
Ways to get involved
Governance - The Committees that oversee our work are made up of Quakers who volunteer to take on this guidance role. Learn more about our governance and finance.
Outreach Presentations - We can organize a presentation explaining QUNO's work to groups of Quakers or others of any age. Please contact us if you are interested.
Global Issues - New QUNO work areas have often developed through an issue being shared with local Quaker meetings and 'ascended' to Yearly Meetings and to FWCC. 
Donations
Financial donations allow us to continue our important work, and we appreciate anything you are able to give. Donate to QUNO.
Mailing List
We send out monthly updates on QUNO's work in both Geneva and New York as well as links to recent publications, newsletters and reports. If you would like to hear what's new at QUNO please join our mailing list! Sign up here.