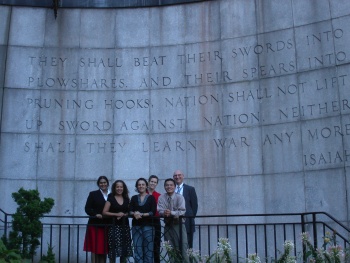 Opportunities
QUNO Geneva seeks a Representative for Sustainable and Just Economic Systems
We have an outstanding opportunity in our unique, integrated and friendly team. We seek a committed person with excellent analytical, visioning and inter-personal skills, to scope and pilot an evolving QUNO programme at the United Nations and the World Trade Organization. The position is presently limited by funding to finish in December 2020. Depending on the outcome of this piloting work and the funds available, QUNO may make a long-term commitment to this type of work. The position is open to Quakers and those sharing Quaker values. The closing date for applications is 7 February 2019. Applicants should follow carefully the instructions provided in the job description here.

Opportunities for Young Professionals
Programme Assistants - QUNO New York is hiring two Programme Assistants for the 2019-2020 period. The application deadline is 25 January, 2019. To read more and to apply, click here. 
For Quakers and those in sympathy with Quaker ideals who have recently completed an undergraduate degree, this year-long service involves everything from attending UN meetings to report writing, research, event planning and routine administration in QUNO's offices in Geneva or New York. Learn more about becoming a Programme Assistant.
Quaker United Nations Summer School - The application period for the Quaker United Nations Summer School in now OPEN. The deadline for applications (originally on 2 January 2019) has been extended to 15 January 2019.​
General Opportunities
Governance - The Committees that oversee our work are made up of Quakers who volunteer to take on this guidance role. Learn more about our governance and finance.
Outreach Presentations - We can organize a presentation explaining QUNO's work to groups of Quakers or others of any age. Please contact us if you are interested.
Global Issues - New QUNO work areas have often developed through an issue being shared with local Quaker meetings and 'ascended' to Yearly Meetings and to FWCC. 
Donations
Financial donations allow us to continue our important work, and we appreciate anything you are able to give. Donate to QUNO.
Mailing List
We send out monthly updates on QUNO's work in both Geneva and New York as well as links to recent publications, newsletters and reports. If you would like to hear what's new at QUNO please join our mailing list! Sign up here.