Climate change: beyond fear and into courage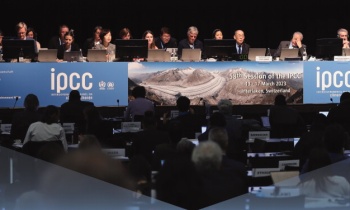 The Quaker United Nations Office (QUNO) consistently monitors developments around climate change.
QUNO approaches climate change as a peace and justice concern, and is involved in international climate negotiations, the Human Rights Council, and is an accredited observer of the Intergovernmental Panel on Climate Change (IPCC).
Lindsey Fielder Cook, QUNO's Geneva-based Representative at the United Nations, heads its Human Impacts of Climate Change programme.
Fielder Cook recently published a leading article in the global magazine 'Environment: Science and Policy for Sustainable Development'.
Her article, 'The Latest IPCC Synthesis Report: What We Learned About Climate Science, and What We Learned About Ourselves', highlights the transformative climate actions already available.
It also talks about how negative dynamics of power, money, fear and anger are suppressing urgent international and national action needed to secure a sustainable and liveable future for all. 
"Our youth often wisely carry a banner 'system change, not climate change'. The IPCC gives us a roadmap for urgent, feasible, and equitable near-term options available at scale to address climate change and improve human well-being and planetary health knowledge," writes Fielder Cook.
"Sufficient political will is essential. So is honesty with our citizens about what is happening, and why. Let us move beyond fear and into courage, and leave a legacy for our children that we acted when we knew."
The full article is accessible at this link: https://www.tandfonline.com/doi/full/10.1080/00139157.2023.2225407
Related Areas of Work