Connecting Local with International Climate Action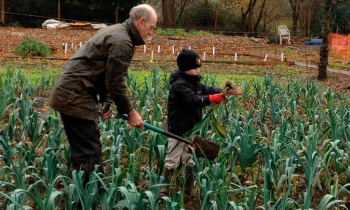 QUNO works to connect and communicate efforts at the multilateral level with people's efforts on climate action and environmental protection on the ground. 
We produce publications for a wide audience - from grassroots climate activists to those just beginning to participate in climate action - that focus on empowering these communities to understand and engage with the multilateral system. We also offer talks and webinars that center on showing the human face of the international climate negotiations. 
Quakers around the world are deeply engaged with climate action both at the grassroots and international level. QUNO works to uphold these efforts in our engagement with civil society and colleagues from different faith traditions on the call for urgent climate action as a moral call to conscience. During the Covid-19 pandemic, we have supported and spoken at Quaker and inter-faith webinars to communicate how international efforts and grassroots communities can strengthen each other. Historically, we have supported Quaker action on climate change worldwide, including a Quaker Statement on Climate Change and a collection of Quaker responses in the Call to Conscience. We maintain a resource hub, Quakers and Climate Change Worldwide, to help connect, inform and inspire Quakers around the world.