Climate Change and the International Negotiations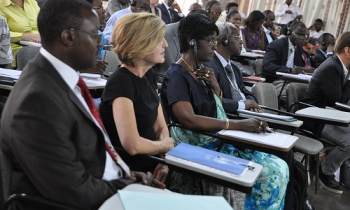 Since 2011, QUNO has been observing climate negotiations held under the United Nations Framework Convention on Climate Change (UNFCCC). QUNO staff regularly attend the Conferences of the Parties, as well as intersessional meetings in Bonn, Germany. We seek a fair, ambitious and transparent international climate change agreement applicable to all parties.
QUNO engages in "quiet diplomacy" work with a diverse group of UNFCCC negotiators. Our aim is to help build communication and understanding by providing a safe, off-the- record space where participants can listen, explore sensitive issues and exchange ideas on how to move forward. QUNO also co-hosts side events at the negotiations, primarily on human rights and conflict transformation issues.
Where appropriate, QUNO develops briefing papers that bring our experience of other international processes to bear on discussions within the UNFCCC. Recent papers include Preparing for Paris, Moving Forward in International Negotiations: Four Innovative Examples and Increasing Trust and Effectiveness Under the UNFCCC: Learning from International Monitoring Processes.