Climate Change and the International Negotiations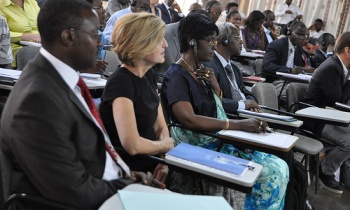 Since 2011, QUNO has been following climate negotiations held through the United Nations Convention on Climate Change (UNFCCC), including the COP 18 in Doha and a number of preparatory meetings.  In 2013, QUNO committed to intensifying its presence at the international negotiations in support of a fair and sufficient agreement. We are working through 'quiet diplomacy' to encourage trust-based discussions among negotiators and to support decision makers in boldly meeting the challenge of climate change.
We also bring experience of other international processes in areas such as human rights, disarmament, environment and trade. QUNO is exploring ways in which previous negotiations have overcome similar challenges to those faced within the UNFCCC. Through this, we aim to share new perspectives with those working towards an international climate agreement.