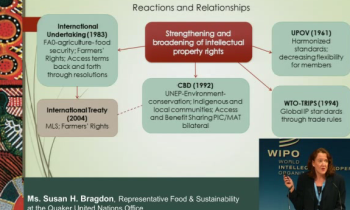 On 27th May, QUNO's Susan Bragdon (Representative, Food & Sustainability), addressed state delegates and civil society at a seminar on intellectual property and genetic resources, hosted by the World Intellectual Property Organization (WIPO) in Geneva.
Her talk laid out the legal landscape for the governance of genetic resources and explained some of the complexities and inconsistencies that currently exist, with a particular focus on plant genetic resources for food and agriculture.
Countries across the world are interdependent on plant genetic resources for fulfilling their food security objectives, but there is a fundamental tension between the international legal architecture and communities on the ground. Susan's talk emphasised the importance of greater inclusivity and coordination between treaty bodies, as well as the need to better account for the needs of small-scale farmers, who play a key role in the maintenance and preservation of genetic resources.
By highlighting Sustainable Development Goal 2: "End hunger, achieve food security and improved nutrition, and promote sustainable agriculture", Susan offered a uniting objective that countries could use to help reconcile those treaties' disparate provisions.
You can watch the talk here by selecting 'Seminar on intellectual property and genetic resources'. Susan's talk begins at around 13mins in.
Related Areas of Work