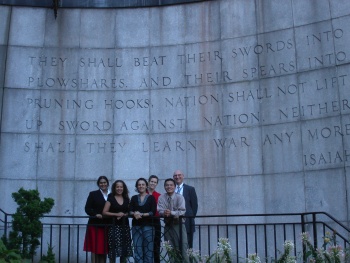 Opportunities for Young Professionals
QUNO New York is currently hiring Programme Assistants for 2015-16. Click here for more information and to apply.
Programme Assistants - For Quakers and those in sympathy with Quaker ideals who have recently completed an undergraduate degree, this year-long service involves everything from attending UN meetings to report writing, research, event planning and routine administration in QUNO's offices in Geneva or New York. Learn more about becoming a Programme Assistant.
Geneva Summer School  - QUNO is currently accepting applications for the 2015 Geneva Summer School, a two week programme from 5 - 17 July for people aged 20-26 interested in international affairs and learning more about the work we do with the United Nations. Closing date for applications is Monday, 16 March 2015. Click here to learn more about Summer School in Geneva.
General Opportunities
Governance - The Committees that oversee our work are made up of Quakers who volunteer to take on this guidance role. Learn more about our governance and finance.
Outreach Presentations - We can organize a presentation explaining QUNO's work to groups of Quakers or others of any age. Please contact us if you are interested.
Global Issues - New QUNO work areas have often developed through an issue being shared with local Quaker meetings and 'ascended' to Yearly Meetings and to FWCC. 
Donations
Financial donations allow us to continue our important work, and we appreciate anything you are able to give. Donate to QUNO.
Mailing List
We send out monthly updates on QUNO's work in both Geneva and New York as well as links to recent publications, newsletters and reports. If you would like to hear what's new at QUNO please join our mailing list! Sign up here.