Climate Change and Human Rights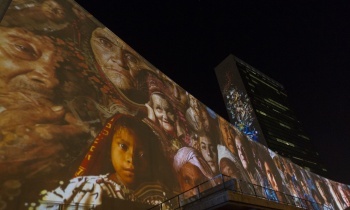 QUNO advocates for rights-based approaches to climate policy to create more legitimate, coherent and sustainable climate action. 
QUNO advocates for the inclusion of human rights language in decision text at the international climate negotiations. This is based on the understanding that climate policy that protects human rights, and benefits people and nature, will be experienced by communities as more fair. Communities' positive experience of climate policy in turn results in increased chances for successful mitigation and adaptation efforts. 
At the Human Rights Council in Geneva, QUNO advocates for urgent and fair climate action to prevent the immense human rights abuses that are predicted to occur as a result of global temperature rise. Our work in this area is rooted in the belief that the right to a healthy environment forms a key part of the human rights of each and every person. Global environmental collapse was not imagined by authors of the Universal Declaration of Human Rights. Yet today such collapse is a reality.
We work alongside human rights colleagues from both the Geneva and international spheres, publish briefing papers on related topics, and hold side events in support of topics explored in the negotiations. We deliver statements at the Human Rights Council focused on the link between human rights and the protection of the natural world and prepare submissions to support work of the Special Rapporteurs. In our publications, we share information on how human rights law can support greater action on climate change. We are also on the Advisory Committee of the Platform for Disaster Displacement, formerly the Nansen Initiative.