Climate change Global Stocktake must focus on human rights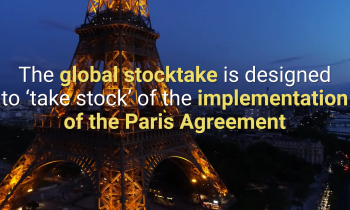 As the United Nations-led Global Stocktake is being finalised, the Quaker United Nations Office (QUNO) has offered two submissions to this assessment of international action on climate change.
QUNO's submission — available for download here — was made on behalf of the Quaker organisation, Friends World Committee for Consultation, which it represents at the United Nations (UN).
QUNO also joined 25 international organisations, as part of the Human Rights & Climate Change Working Group, make a submission to highlight the importance of "integrating human rights into the Global Stocktake". It is available for download here.
The Global Stocktake is a periodic review and the first one is meant to be released at the UN Climate Change Conference (COP28) at the end of 2023.
Its primary objectives are to assess individual countries' efforts to reduce greenhouse gas emissions and transition to renewable energy sources. It is aimed at keeping countries accountable on climate action.
The Global Stocktake was established under the UN Paris Agreement, a legally binding international treaty on climate change which encourages global action to help humanity and nature avert catastrophic temperature rise due to human activities. Numerous countries have voluntarily signed this agreement.
The Human Rights & Climate Change Working Group submission reminds signatories to the Paris Agreement that "effectively integrating human rights into the Global Stocktake and the consideration of its outputs is essential, because all Parties to the Paris Agreement have international human rights obligations".
It further states that "failure to effectively integrate human rights… is hampering ambitious and just policies".
"The failure to effectively address the violence against environmental defenders on the frontlines of the climate crisis is having devastating impacts on individuals and communities and in the ability of defenders to carry out their work in safety," it states.
"According to Global Witness' most recent data, at least 1,910 land and environmental defenders globally have lost their lives since the organisation started documenting killings in 2012.
"Beyond killings, around the world environmental defenders working on climate justice are increasingly targeted with violence, harassment, and criminalisation. 
"Most of these attacks are related to land conflicts involving climate-damaging industries — from deforestation by agribusiness to mining — yet corporate accountability for such harm is lacking. To achieve real climate justice we need to protect the rights of defenders — whether communities or individuals — to demand climate action without fear or reprisal."
QUNO plans to monitor progress and finalisation of the Global Stocktake in the coming months.
Related Files
Related Areas of Work