Civil Society-UN Prevention Platform submission for UN's New Agenda for Peace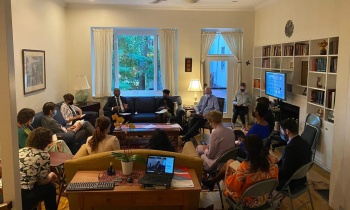 On the 75th anniversary of the United Nations, Member States pledged to strengthen global governance for the sake of present and future generations. At the request of Member States, the Secretary-General released the much-anticipated report, 'Our Common Agenda,' that provided several recommendations, including the need for a New Agenda for Peace (NA4P), to address the multitude of challenges faced by the international community.
The Civil Society – UN Prevention Platform, launched in 2016 with QUNO and the Global Partnership for the Prevention of Armed Conflict (GPPAC) as co-facilitators, focused its 2022 annual discussion series on topics to inform the proposals for the NA4P. The series provided a space for the UN, diplomatic community and civil society to focus on the pressing issues facing the prevention agenda and UN policy development. The discussions focused on prevention at the international, national, and local levels, with two convenings centering on specific regional experiences. Each session provided many examples and lessons learned from the peacebuilding and prevention fields with speakers from throughout the world reflecting on their experiences at local and national levels, and how high-level policy has worked to prevent the escalation of conflict. Participants also shared ideas on how to further develop or strengthen the impact of policies developed at the headquarters level for programming on the ground.  
At the end of 2022, the UN issued an open call for civil society to provide feedback and ideas for the development of the NA4P. QUNO and GPPAC seized this opportunity to take the learning from the annual series to influence the UN's NA4P drafting process. Working with the Platform's core group, the paper, The New Agenda for Peace: An Opportunity to Advance Prevention Through Civil Society – United Nations Partnership, was submitted to the UN. It was also shared widely with the Platform's partners and the diplomatic community at the UN. The paper outlines recommendations for the UN's six key proposals for the New Agenda for Peace. The Platform's paper then brings attention to three additional areas that are overlooked by the NA4P process: supporting youth-led prevention efforts; integrating climate sensitive risk analysis in prevention and peacebuilding; and tackling corporate governance gaps. The Platform believes that including these areas is a way to ensure a comprehensive and forward-looking policy through the NA4P.
In the coming months QUNO and the CS-UN Prevention Platform hope to engage with stakeholders and Member States to help create a better understanding of the underlying drivers and systems that sustain conflicts and renew efforts in fostering meaningful and effective processes to manage emerging situations of conflict. You can read our submission here.
Related Files
Related Areas of Work