QUNO joins talk on "How are Quakers supporting climate action at the UN?"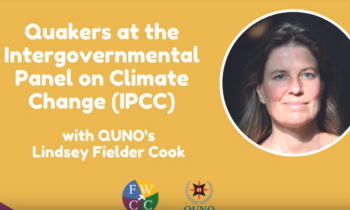 QUNO's Representative for Human Impacts of Climate Change, Lindsey Fielder Cook, gave a presentation on Quaker work at the Intergovernmental Panel on Climate Change (IPCC), hosted by the world Quaker body Friends World Committee for Consultation (FWCC). In her talk, Lindsey explained the work of the IPCC and how Quakers participate in the negotiations.
Lindsey shed light on the current IPCC negotiations that are focused on the publication of the scientific body's latest report of climate science (the Sixth Assessment Report). She explained QUNO's historical role as an observer in these negotiations, highlighting how QUNO presses "for greater research on urgent, fair and transformative climate action to transform root causes driving climate change" and its role in ensuring that the communication of climate science in these reports is not weakened. Speaking about the most recent rounds of negotiation that occurred in February and March 2022, Lindsey shed light on how QUNO worked with other civil society observers to prevent language on the urgency of the climate crisis being weakened and ensure that language on climate justice, Indigenous Peoples rights and human rights were included. She concluded by taking questions from the floor and speaking to the spiritual grounding of Quaker work on the climate crisis. 
To watch a short introductory video on QUNO's work at the IPCC, please click here. For a recording of the full talk, please click here. 
Related Areas of Work