UN releases system-wide Community Engagement Guidelines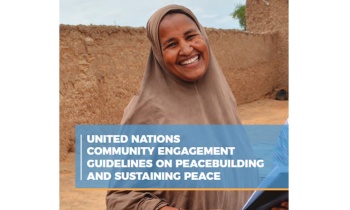 As the Secretary-General boldly states in his 2020 report on Peacebuilding and Sustaining Peace, "civil society engagement and participation is indispensable to peacebuilding." Civil society organizations (CSOs), practitioners and individual leaders are often the primary peacebuilding agents, working directly to negotiate and mediate conflict, supporting community reconciliation and rebuilding, and carrying out a range of programs and efforts to strengthen the very social fabric of society. Recognizing this essential role of civil society, the United Nations (UN) released Community Engagement Guidelines on Peacebuilding and Sustaining Peace (CEG), a system-wide guidance to enhance how the UN engages and partners with communities in the shared effort to build and sustain peace.
The publication of the CEG follows an extensive effort to conceptualize and develop a process and final document that had inclusion at the heart. Measures to this end included the establishment of a joint UN-CSO working group, of which QUNO was one of three CSO members, tasked over the past year and a half with overseeing the development of the guidelines. Through our shared efforts the working group carried out a range of measures to hear from colleagues working at the country level, including: a survey to solicit feedback from over 400 UN colleagues and CSO partners on their experience and recommendations for strengthening UN-CSO partnership; over 40 video calls with UN staff and partners across the globe to dig deeper on the issues and learn from their experience; and online and in person consultations to solicit feedback on emerging messages. These efforts ensured that the experiences, good practices, challenges and recommendations from colleagues throughout the world directly informed and shaped the CEG, making it a stronger and more relevant document for the needs of the UN.
While the publication of the CEG is itself a terrific sign of progress, the work does not stop there. Going forward efforts will be taken by UN and CSO partners to turn words into practice and implement the recommendations put forth in the CEG. QUNO looks forward to this next stage of the process and seeing how UN colleagues are able to use the CEG based on their context and needs.
Related Files
Related Areas of Work