QUNO participates on AFSC-led panel on restricted civic space at annual Peace Con event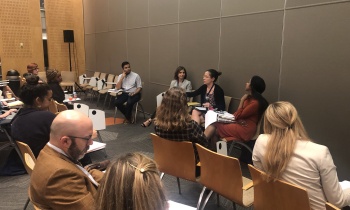 Focusing on the theme, "Seizing the Moment for Peace in a Disrupted World," the annual Alliance for Peacebuilding gathering, Peace Con, provided a timely opportunity for convening the global peacebuilding community to explore a range of issues impacting the field. One such topic that was a reoccurring theme for discussion across sessions was the global closing of civic space and the adverse impact this is having on initiatives to build and sustain peace. QUNO NY's UN Representative for Peacebuilding, Megan Schmidt, was excited to participate in the American Friends Service Committee's (AFSC) panel on just this issue, under the theme of "Unrestricting Space for Peacebuilding and Social Justice."
Joined by fellow AFSC colleagues and partners, Megan shared her learning and experience on the issue of civic space restrictions, drawing from her work as a member of the Joint UN-Civil Society Working Group that is developing system-wide United Nations Community Engagement Guidelines (CEG). She provided an overview of the CEG process, sharing that, "at the heart of this process has been the recognition of the centrality of inclusivity, and that civil society needs to be included and heard if the UN is going to develop guidance that intends to truly support change in how this body engages with CSOs at a local level." This approach included a global survey with over 300 respondents, an online consultation with over 400 registered participants and over 40 video consultations with colleagues in select countries.
When reflecting on the input received by partners throughout the world, Megan noted that the issue of restricted space was raised as the number two greatest challenge for civil society, following organizational capacity difficulties. This ever-growing restriction is not confined to a specific country or region, or to any sector. Unfortunately, as Megan and other panelists noted, the closing of civic space is a global trend that is putting peacebuilding initiatives at risk.
In the discussion on ways to "unrestrict" civic space, Megan shared the emerging messages from the CEG process around avenues to build or strengthen partnership and engagement between the UN and civil society. Additionally, she shared recommendations on what the larger civil society community can do to address these issues. As she noted, "we have a role to play and a responsibility to support our partners who are facing these restrictions head on day in and day out, with strength and bravery."
QUNO was excited to be a part of this panel and is appreciative to AFSC for this opportunity. We look forward to continued partnership together on the urgent topic of unrestricting civic space to foster peaceful, just and inclusive societies.
Related Files
Related Areas of Work