QUNO participates in Dialogue and Exchange Program on the role of youth in prevention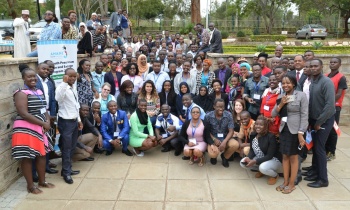 "…children and young women and men are critical agents of change and will find in the new goals a platform to channel their infinite capacities for activism into the creation of a better world." – 2030 Agenda for Sustainable Development
QUNO's UN Representative for peacebuilding, Megan Schmidt, participated in a Dialogue and Exchange Program (DEP) on the role of young people in the prevention of electoral violence, held in Nairobi, Kenya from 29 June to 1 July. This DEP, organized by a range of peacebuilding organizations working throughout Africa, including the American Friends Service Committee's Nairobi-based office, brought together over 100 young people from 16 countries in Africa to discuss how youth contribute to prevention and peace. Among the DEP's goals were to connect youth across the continent, equip them through strengthening knowledge and skills for fostering peace, and acknowledge the dynamic work participants are carrying out in their countries.
Through panel and interactive sessions, participants reflected on a range of issues including drivers of conflict, triggers for radicalization and policies for preventing extremism, and available peace frameworks, including UN Security Council Resolution 2250 on youth, peace and security, and the 2030 Agenda for Sustainable Development. QUNO staff delivered a presentation on the 2030 Agenda as a peace tool for young peacebuilders, reflecting on what it is, why the Agenda matters for youth, and how young leaders can take the 2030 Agenda forward. During the panel discussion and conversations throughout the day, QUNO staff had the opportunity to learn more about the rich work carried out by participants in their countries, including on domestic efforts to implement the 2030 Agenda, and initiatives to strengthen good governance and political inclusivity, and peace education.
The DEP closed following a Peace Awards ceremony, with winners being acknowledged for their work to impact peacebuilding in their countries and continent, the holding of a concert for peace, and the convening of a sports for peace event that brought together over 300 young people. The participants also agreed to develop the African Youth Peace Network, an online platform to connect youth working for peace, and adopted a declaration that conveys the mission and goals of the Network. QUNO looks forward to seeing this network develop, and working with the diverse and dynamic young peace leaders in their efforts to promote peaceful, just, and inclusive societies in their countries and on their continent.
Related Files
Related Areas of Work