QUNO hosts the Friends Church Peace Teams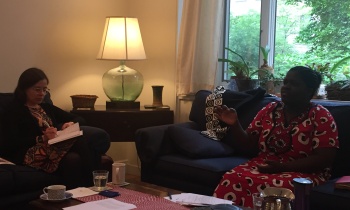 An essential part of QUNO's work to promote peacebuilding and prevention at the UN is to ensure that diverse voices inform discussions, particularly practitioners working at the local level and communities that would be impacted by policies. In May, QUNO hosted, Getry Agizah, a Kenyan Quaker, and Coordinator of the Friends Church Peace Teams (FCPT)/ Transforming Communities for Social Change (TCSC) to share her work on peacebuilding at the community level. Getry, a proud peace builder, works tirelessly to transform societies in the western Kenya region. During her visit, Getry shared her perspectives on local-level peacebuilding by highlighting examples of how she has successfully used her training in Alternatives to Violence (AVP) and Healing and Rebuilding our Communities (HROC) to support the communities she works with in the areas of healing, and reconciliation.
On the first day of her two-day visit to New York, Getry took part in a meeting with a diverse group of New York-based civil society organizations to explore key themes that she has found in her work. Some of the emerging themes were the need to build trust with and work directly with communities, as this supports efforts to build peace. Additionally, she brought attention to the need to fully understand the context of the environment one is working in, including recognizing the challenges facing marginalized communities such as extreme poverty and post-conflict trauma. Getry noted the value and impact of including women and youth in peacebuilding and shared her experiences with projects she has led working with orphans, and women in the community. On the second day, she took part in bilateral meetings with member states and UN actors to further discuss and explore the need for inclusivity and reconciliation in local peacebuilding initiatives. QUNO was glad to have hosted her and hopes she will return to provide updates to UN, civil society and member state colleagues on the impact of her work and share more on local peacebuilding perspectives.
Related Links
Related Areas of Work