Chinese Perspectives on Africa's Peace and Security Challenges: Views from the Field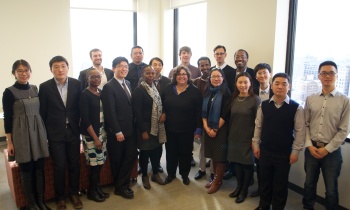 QUNO, the American Friends Service Committee (AFSC), and the Social Science Research Council (SSRC) convened a two-day workshop in New York that provided a forum for academics from various Chinese institutions to share their research and perspectives on peace and security issues in Africa with a broad policy audience. With support from a joint SSRC-AFSC pilot fellowship program, six Chinese PhD scholars completed research in the Democratic Republic of Congo, Kenya, Zimbabwe and at the African Union where they looked at China's engagement in UN peace operations, regional partnerships, and the role of China's commercial interests in sustaining peace. In addition to co-sponsoring the workshop, QUNO's UN Representative for the Prevention of Violent Conflict, Rachel Madenyika, participated as a discussant, sharing her reflections on the role of business in prevention and sustaining peace.
China continues to rapidly increase its participation in UN peace operations, and is becoming more involved in supporting peace operations and peacebuilding efforts in conflict affected countries and regions, especially in Africa. During the workshop, participants reflected on how in China there is an increasing focus on the importance of investing in development projects as a way to foster peace and address root causes of conflict. Chinese development actors and investors moving these projects forward face challenges with identifying and understanding the drivers and root causes of conflict. 
Related Areas of Work