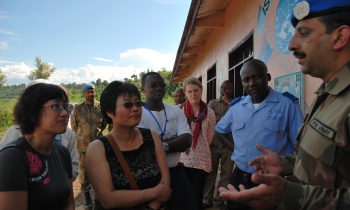 A shifting world stage is seeing greater participation at the UN from a wider range of actors than in the past. These actors include UN member states whose leadership role and level of engagement in the international arena has greatly increased over recent years (for instance Brazil, Russia, India, China, South Africa, Turkey). Also, regional intergovernmental organisations (such as the African Union, and the Association of Southeast Asian Nations) have come to play an increasingly important role working in partnership with the UN to prevent violent conflict.
QUNO New York has conducted a variety of activities aimed at sharing perspectives and fostering constructive engagement with emerging powers at the UN. A particular focus of this work has been on China's increasing role in UN peacebuilding and peacemaking activities. 
Ongoing Activities
Through its partnership with the American Friends Service Committee in China and Africa, QUNO has engaged in a series of activities since 2011 focused on supporting academic research and facilitating discussion on the role of China in UN peacemaking, peacebuilding, and peacekeeping. These activities have included a study tour to Burundi and Congo for Chinese scholars, an exchange visit with Chinese and UN experts in New York, and a seminar in Beijing with participants from the UN, Chinese academic institutions, and African civil society.