UNRWA at 65: Overcoming Hardship and Sustaining Hope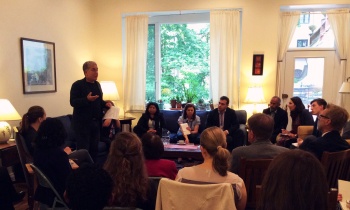 Following a High Level UN Conference to commemorate the 65th anniversary of the UN Relief and Works Agency for Palestine Refugees in the Near East (UNRWA), Quaker House hosted an Israel Palestine NGO Working Group meeting with UNRWA titled "Overcoming Hardship and Sustaining Hope." The meeting featured five Palestine refugees from the West Bank, Gaza, and Syria who traveled to New York City to share their stories with the UN community. 
There was an added poignancy to the meeting as QUNO's sister organization, the American Friends Service Committee (AFSC), preceded UNRWA as the UN mandated organization to coordinate relief efforts to Palestinian refugees. On the 65th anniversary of this transfer, a packed room listened to the testimonies of each speaker, to reflect and further ideas to continue to advocate for a just and durable peace in Israel and Palestine. 
Related Areas of Work