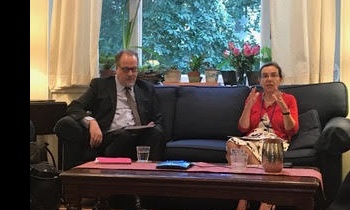 On 8 October, the Civil Society-UN Prevention Platform hosted a meeting between civil society and the newly appointed Under-Secretary General and Special Advisor on Policy, Ms. Ana Maria Menéndez. The Civil Society Prevention Platform, established in 2016, aims to enhance UN and civil society collaboration. As co-facilitator of the Civil Society Prevention Platform, QUNO hosted this off-the-record event in Quaker House. 
The event was Ms. Menéndez's first meeting with a network of civil society actors in her newly appointed role. Providing an opportunity for open and constructive dialogue on how civil society can better interact to contribute to the UN's work on prevention, this event offered an exciting opportunity for civil society members to better engage with the Executive Office of the Secretary General. 
The Civil Society-UN Prevention Platform sees great potential in growing and developing this relationship - there is an interest and demand within civil society for this enhanced relationship with the UN. We are delighted with the positive response from Ms. Menéndez's office to engage more deeply and meaningfully with civil society. Our Platform stands ready to assist in whatever way possible to nurture and grow this partnership.
Related Links
Related Areas of Work