QUNO Representative joins Peace and Conflicts panel during the Global People's Assembly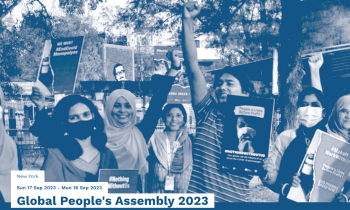 During September, hundreds of participants from civil society, marginalized communities, excluded groups, and local actors came together to hold governments accountable  to their global commitments at the United Nations. The Global People's Assembly provides an opportunity for participants to share their experience of social, environmental and economic injustice, and to strategize around ending inequalities.  
Gathering over two days alongside the opening of the UN General Assembly, discussions included a panel on Peace and Conflicts. QUNO New York Representative, Kavita Desai, speaking on behalf of the Civil Society-UN Prevention Platform, provided background on current UN processes, including the proposal by the UN Secretary-General for a New Agenda for Peace, and next year's UN Summit of the Future. Kavita outlined potential entry points for civil society to engage and uplift the importance of prevention during the upcoming year, including by sharing analysis and examples of national action. Kavita also reminded participants of the upcoming July 2024 review of Sustainable Development Goal 16 on peaceful societies, inclusive institutions, and access to justice for all. Participants spoke about the challenges in engaging with the UN system, and the need to better connect discussions and opportunities in New York with work taking place at the local level.  
The gathering acted as a space for supporters to come together to talk about the yearlong #SDG16Now campaign that was launched on September 21st.The campaign  calls for greater action to achieve SDG 16 and for governments and the UN to recognize the leadership role civil society are playing in its implementation.
Photo Caption: Global People's Assembly Cover
Photo Credit: #SDG16Now Campaign Engagement Toolkit | Ellery Wong
Related Areas of Work