QUNO NY Speaks about youth, peace and inclusion at the local level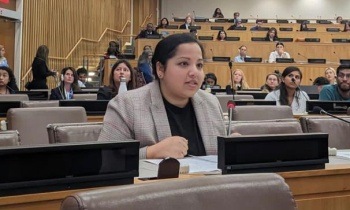 On September 16th, QUNO New York Representative, Kavita Desai, spoke at a side event in connection to the Sustainable Development Goals Summit. In her presentation, she stressed that, "for the United Nations engagement with young people on peace and security to be sustainable, there must be an investment in young people and in prevention."   
At the event, titled "Advancing the Sustainable Development Goals (SDGs) through the Youth, Peace, and Security (YPS) agenda at the local level," a panel of speakers, including Kavita, focused on the reality that youth are often the most affected by conflict, injustice, and exclusion. Speakers emphasized that one in four young people worldwide live in settings impacted by armed conflict or organized violence. Like Kavita, other panelists highlighted that polices need to be strengthened and international cooperation should increase to enable support and inclusion of young. 
In addition to government and UN panelists, youth speakers shared their personal experiences. They called on the international community to not just talk about young people, but to include  them in policy and decision making processes. One speaker challenged the UN system and government representatives, asking the room, "where are all the young people?" Adding to the discussion, Kavita stated that, "young people are working in their communities to build peace", noting that "for youth to have trust and faith in multilateralism, there must be real and concrete accountability moving forward." 
QUNO New York leads programming on youth, peace and inclusion, which aims to uplift the experiences and perspectives of young people in UN policymaking. QUNO will continue to advocate for more inclusive policies at the UN and for young people's active involvement in policymaking and implementation, while also striving to better connect young people to the UN. 
Related Areas of Work