SDG 16 Conference 2023: SDG 16 as a compass for navigating intersecting crises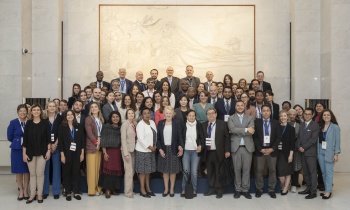 From 30 May to 1 June, Kavita Desai, QUNO NY Representative, actively participated in the  fourth annual Sustainable Development Goal 16 (SDG 16) Conference. The conference was organized by the International Development Law Organization (IDLO), the UN Department of Economic and Social Affairs and the Ministry of Foreign Affairs and International Cooperation of Italy. In addition to the conference, a civil society day was observed on 29 May. 
The conference brought together government representatives, international organizations, civil society, and academia. The aim of the conference was to review progress and challenges to achieving SDG 16: Promote peaceful and inclusive societies for sustainable development, provide access to justice for all and build effective, accountable and inclusive institutions at all levels. Discussions focused on conflict and the shrinking trust in public institutions alongside panels on the crosscutting nature of climate change and food systems challenges. The overarching theme was how implementing SDG 16 can support the transition to a more sustainable world. 
Kavita actively participated during the conference and also participated in the civil society pre-conference session and in the drafting and finalization of the 2023 Rome Civil Society Declaration. The key messages of the conference, include that SDG 16 can help to build a future where violent conflicts are prevented rather than managed, and where resources are invested in development rather than destruction. These messages will contribute to discussions at the UN on sustainable development and sustainable peace.
Photo Credit: International Development Law Organization
Related Areas of Work