QUNO NY hosts discussion on equal access to justice for all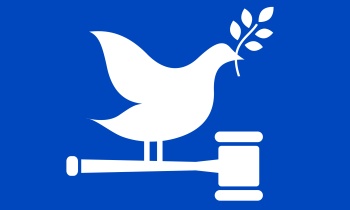 On June 7, QUNO NY held a discussion on Sustainable Development Goal 16 titled "Spotlight on SDG 16: Providing Access to Justice for All'. The event brought together UN diplomats, colleagues from the UN system and civil society to unpack the 'justice' element of SDG 16, delving further into both reproductive and environmental justice.
The diverse lineup of speakers provided thought-provoking perspectives on what it means to 'provide access to justice'. Ambassador Odo Tevi of the Permanent mission of Vanuatu spoke about the recent request for an International Court of Justice Advisory Opinion on the responsibility of states to future generations. The Ambassador emphasized that achieving SDG 16 requires a multifaceted approach encompassing legal, social and political cohesion at both national and international levels. 
Professor Loretta Ross delivered an excellent overview of reproductive rights in the United States, reminding participants that is important to consider a broader perspective when addressing sexual and reproductive health. There is a need to look beyond abortion as a singular, stand-alone decision but rather recognize its interconnection to various factors such as job security, access to affordable housing and healthcare. Adopting a comprehensive approach and focusing on the full range of services needed to raise a child, Professor Ross advocated for a more inclusive approach to understanding reproductive justice. 
Ms. Kameri Mbote, the Director of UNEP's Law Division, shed light on the intersections within environmental justice. She stressed that environmental injustice reaches beyond ecological concerns and should be viewed as a serious violation of human rights. She emphasized the necessity for the UN to establish a health initiative that takes a holistic view of health encompassing environmental justice rather than approaching it in isolated silos.
First Secretary of the Permanent Mission of Sierra Leone, Ms. Roselyn Finda Senesi spoke about General Assembly resolution 76/304 on "International cooperation for access to justice, remedies and assistance for survivors of sexual violence" tabled by Sierra Leone which was adopted unanimously in 2022. The resolution called for a unified front from member states in dealing with crimes of sexual violence. Ms. Senesi stressed the importance that was placed on cooperation between all member states creates a culture of accountability and ensures that victims of sexual violence have equal access to justice that transcends national boundaries.
The discussion allowed for insightful questions for all speakers that centered around the intersectionality of equal access to justice, strategies for translating SDG targets into tangible national laws and action plans and methods to improve data collection on equal access to justice. You can read about the event here.
Photo Provided by United Nations Communications
Related Links
Related Files
Related Areas of Work