Quaker work at the United Nations Permanent Forum on Indigenous Issues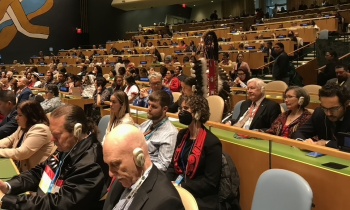 Away from the buzz of the UN, young Indigenous people gathered at Quaker House under the shade of the gingko tree, finding respite through casual conversation, ceremony, and friendship after two weeks of political dialogues at the United Nations Permanent Forum on Indigenous Issues (UNPFII), held in New York in April 2023.
For Rachel Singleton-Polster and Jeremy Vander Hoek, who conduct work on Indigenous Rights at the Canadian Friends Service Committee (CFSC) alongside Jennifer Preston, Quaker House provided a unique space: "In our conversations with young Indigenous activists, many spoke of the need for quiet spaces during the Forum to reflect and recuperate. The gift of Quaker House was a huge part of our ability to provide these spaces in small ways. We were able to share this space for the purpose of ceremony and participate in the joyful conversation and community building that came with that."
Established in 2000, the UNPFII promotes awareness and action around Indigenous issues, ensuring the respect for the UN Declaration on the Rights of Indigenous Peoples. It works to provide advice and recommendations to the UN's Economic and Social Council. This year, Indigenous leaders and delegations from across the world met around the theme 'Indigenous Peoples, human health, planetary and territorial health and climate change: a rights-based approach'.
CFSC has been engaged with the Permanent Forum since its inception, accompanying Indigenous Peoples in the work to advance their human rights, participation and facilitate dialogues.
Read more about the work of Friends at the Forum this year here.
Related Files
Related Areas of Work