QUNO Geneva gives recommendations to enhance Special Procedures' contributions to sustaining peace at the 52nd Session of the Human Rights Council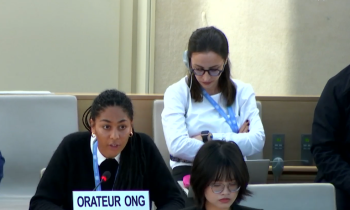 QUNO Geneva's Peace and Disarmament programme delivered a statement under Item 5 of the Human Rights Council 52nd Session to welcome the report on the activities of Special Procedures (A/HRC/52/70).
The report highlights the rich and multifaceted contribution of special procedures and their mandate holders to sustaining peace[1]. On behalf of the Coordination Committee of Special Procedures, Victor Madrigal - UN Independent Expert on Protection against violence and discrimination based on sexual orientation and gender identity, reiterated the crucial link between Special Procedures and other pillars of the United Nation's system, specifically mentioning the peace and security pillars.
QUNO was delighted to have been acknowledged in the report (p.11), having facilitated an exchange of experiences among mandate holders during the Annual Meeting about their engagement with the UN Peace and Security pillar, including the Peacebuilding Support Office & Peacebuilding Fund as well as in country peacebuilding stakeholders. This continues to be part of our ongoing work to strengthen the relationship between human rights and sustaining peace.
Our statement called for continued efforts by Special Procedures to engage on and with peace and security matters and stakeholders, while calling for further dedicated resources to strengthen these continued efforts. We reiterated that there cannot be lasting peace without human rights.
To listen and watch the statement in full, click on the video-link below; or to read our statement in full please see the PDF below.
[1] Including but not limited to the following reports relating to peace & conflict generated in the last year by mandate holders: (A/HRC/51/32) ; (A/HRC/50/28) ; (A/HRC/51/25) ; (A/77/203) ; (A/77/288) ; (A/HRC/50/42) ; (A/HRC/49/46) ; (A/HRC/49/44) ;  (A/77/235) ; (A/77/345) ;  (A/HRC/51/34) ;  (A/77/162).
Related Links
Related Files
Related Areas of Work