QUNO NY Representative speaks on International Day of Peace panel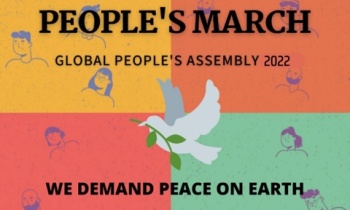 On the International Day of Peace, which is held every year on 21 September, QUNO NY Representative, Kavita Desai, joined the Global People's Assembly panel discussion, Peace and Conflict Prevention - Reflections on International Day of Peace. The session, held virtually, brought together civil society organizations (CSOs) to discuss the 2030 Agenda and Sustainable Development Goals (SDGs). At a time when the international community faces critical moments and opportunities to build more peaceful societies, all four panelists talked about how CSOs can bridge the gaps between global action and local level engagement.
Kavita spoke about the Secretary-General's recent speech at the 77th session of the United Nations General Assembly (UNGA) where he highlighted that the current systems in place do not work, calling for a return to the UN's core mission of ensuring global peace. Looking at this practically, she discussed the steps that could be taken within the next few years and the opportunities available for CSOs to meaningfully engage and influence UN processes and goals. Building on the UN's 75th anniversary in 2020, there will be many upcoming discussions on how the UN can be strengthened to tackle the challenges of today and the future. This includes holding a Summit for the Future in 2024 which aims to reinvigorate how the UN and its Member States address global peace needs for now and future generations.  
Each panelist briefly touched on the topics of dialogue and peacebuilding as well as the inclusion of women and young people. However, it was the issue of conflict prevention that was at the center of the discussion. The UN Secretary-General has now started his second term and has proposed a number of ways to strengthen global peace and security. These proposals in the Secretary-General's report, Our Common Agenda, offer civil society the space to advocate for stronger policies and action.  Moving forward on the proposals will provide an opportunity for the UN to revisit its original promise of saving future generations from the scourge of war. Kavita emphasized how civil society may, as it has in the past, affect change in multilateral organizations and shine a light on why peace, prevention and development must be key issues going forward.
Additional information can be found in the outcome declaration of the 2022 Global People's Assembly entitled, Global Justice to Achieve SDGs: Sustainable Equality for All.
Related Areas of Work