QUNO Hosts First Consultive Youth Listening Exercise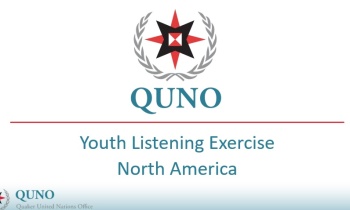 Meaningful political inclusion and participation of young people is key for building lasting peace and sustainable development.  Under its "Youth, Peace and Security" or YPS policy agenda the UN has also increasingly created opportunities for young peacebuilders. However fundamental challenges, like protection, remain and truly inclusive and partner-based policies and practices are not yet the norm. QUNO aims to build on the UN's momentum by engaging with young people in different regions through consultative dialogues to discern the direction of our work on YPS in an inclusive way. To meet this aim, QUNO launched a Youth Listening Exercise and activities that focus on strengthening youth inclusion and advocating for United Nations policies that reflect youth identified priorities.
Below are the key findings from the conversation:
Participants understood peace in both individual and structural terms.
Participants identified numerous obstacles to peace in their communities including a violent police force, militarized border checkpoints, surveillance from border patrol, and unresolved historical violence/the legacy of genocide. 
They also identified how their communities create "pockets of peace" through mutual support.
Participants are deeply engaged in their communities through grassroots and civil society/non-profit efforts.
Participants had little working knowledge of the UN or how they could engage with it. They also had no prior knowledge and some confusion around what "youth, peace and security" meant.
Many participants did not feel that the US government represents their interests at the UN and that American exceptionalism is an obstacle to multilateralism.
Participants highlighted the following issues that they believe should be included in a US National Action Plan on Youth, Peace and Security: educational justice, climate change action, environmental justice, addressing hunger and passing Child Nutrition Act Reauthorization, police reform or total abolition, justice reform/access to justice, shifting investments away from security towards community development, drug prevention and harm reduction and housing accessibility.
On 31 May, QUNO hosted our first regional consultative Listening Exercise with young people. This first discussion, hosted via Zoom, engaged with young people from and/or living in the United States. Participants discussed what peace means to them, how they are involved in their communities, the obstacles to political inclusion they face as young people and how the UN affects their lives. The rich discussion bolstered what we have seen so far in the YPS space: young people want to build a peaceful and just world and they will do that whether or not they have access to formal political and peacebuilding processes.
Read the full summary of the listening exercise here.
This US consultation kicked off our listening dialogue process, which will continue throughout 2022. We are currently planning our next consultative listening dialogue with our partners implementing youth programming in other regions.
Related Files
Related Areas of Work