Second Week of COP27 (14-20 November 2022)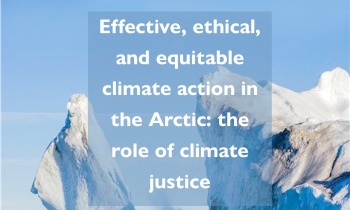 The Human Impacts of Climate Change representative, Lindsey Fielder Cook, and HICC programme assistant, Alana Marie Carlson, continued in the second week of COP27 to focus on urgent, fair, and transformative climate action, and financial support to loss and damage. Join us on 8 December 2022 at 15h CET for a debrief on COP27. Register here!
Alana has prepared a briefing paper on new, alternative, and innovative sources of finance to fund loss and damage. These sources are in line with the Polluter Pays principle and the requirements of the decision reached by Parties at COP27 on how to fund loss and damage. To read the working paper, click here. For an informal analysis of the COP27 decision on new funding arrangements for loss and damage, click here. 
QUNO also co-hosted an event on climate justice in the Arctic with the Inuit Circumpolar Council. Friends of the World Committee for Consultation, British Yearly Meeting, and Quaker Earthcare Witness. Moderated by QUNO, the expert panelists focused on climate justice in the Arctic, the latest cryosphere science on tipping points, on loss and damage affects in Arctic communities, and the challenges of an evolving "Cold Rush" to exploit Arctic resources. To watch the event, click here. To read through the presentation on the latest science in the Arctic, click here. 
QUNO joined other faith-based leaders at the COP to present the UNFCCC Deputy Executive Secretary with the inter-faith Talanoa Dialogue findings with its urgent call for higher ambition at COP27 both in reducing drivers of climate change, in providing adequate new finance, and in establishing a finance Loss and Damage facility at COP27. Other calls included for developed nations to deliver the $100 billion per year in climate finance promised by 2020 and through to 2025. Read the entire urgent call here.
A QUNO reflection of COP27 can be found here.
Related Links
Related Areas of Work