QUNO highlights the role of the informal waste sector in African inclusive circular economy transitions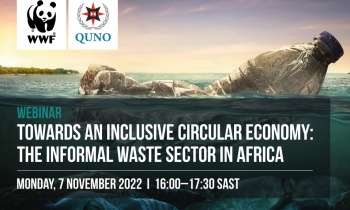 QUNO has partnered with the World Wide Fund for Nature (WWF South Africa) to demonstrate how the informal waste sector (IWS) can be mainstreamed into policy mechanisms and implementation efforts designed to address plastic pollution. 
At our joint webinar on 7 November 2022 we brought together specialists including reclaimer advocates, county-level officials, academics and just transition experts.
These experts provided us with an overview of the IWS in Africa's waste management landscape, and the main challenges and opportunities for the IWS' integration in a just transition towards a circular economy in Africa. They also addressed opportunities emerging from the upcoming plastic treaty negotiation process under United Nations Environment Programme (UNEP).
The Webinar's recording is available HERE (passcode: sm681h+2)
Related Areas of Work