QUNO hosts authors from 'Light in Gaza: Writings Born in Fire'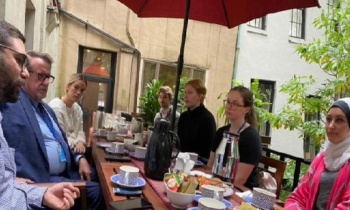 On 25 October, QUNO New York hosted Jehad Abusalim and Asmaa Abu Mezeid, two of the authors of the newly published anthology 'Light in Gaza: Writings Born in Fire', for an intimate conversation at Quaker House with QUNO staff and members of the UN Israel-Palestine NGO Working Group.
With the situation in Gaza often framed purely as a military or humanitarian issue, this conversation provided an opportunity to hear about people's experiences under occupation.
For sixteen years, two million Palestinians in Gaza have lived under a brutal blockade, isolated from the rest of Palestine and the world. The anthology, 'Light in Gaza: Writings Born of Fire,' imagines what the future of Gaza could be, while reaffirming the critical role of Gaza in Palestinian identity, history, and struggle for liberation. The book, which was edited by staff of the American Friends Service Committee (AFSC), includes political essays, personal narratives, economic analysis, and poetry by twelve Palestinian writers.
At Quaker House, Jehad spoke to the current political and historical situation in Gaza and the work of AFSC past and present in the US and Palestine. Drawing from her chapters in the book, Asmaa spoke about the agricultural histories of Gaza and the increasing erasure of farming practices as possibilities for it wane under Israeli occupation. She emphasized the importance of documenting everyday lived experiences as a part of writing Palestinian history.
The Quaker House conversation was timely as it took place while discussions and briefings on the issue were happening in the UN General Assembly's Third Committee. In listening to Jehad and Asmaa it was a reminder for participants of the vital importance of centering on the ground perspectives in high level international policy contexts.
Related Areas of Work