Let us see what Peace can do: A shared statement by peacebuilding organizations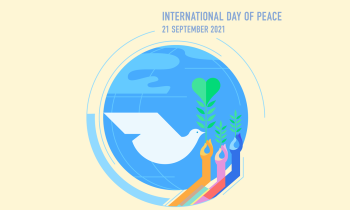 In 1981 the United Nations General Assembly designated 21 September as the International Day of Peace in order to highlight the importance of fostering an international commitment towards peace and non-violence. For the 2021 International Day of Peace, the United Nations Secretary-General called on the international community to "be part of a transformation for peace, by standing up against hatred and discrimination, by caring for the planet, and by showing the global solidarity that is so vital at this time." This is the sixth year that QUNO has facilitated the creation and distribution of a sign on statement supported by peacebuilding organizations across the world to mark the day and engage Member States and UN stakeholders on issues related to peace before the start of the annual UN General Assembly session.
As this year's International Day of Peace falls 18 months into the COVID-19 crisis, this statement emphasizes that in the face of the socioeconomic, political and health consequences of COVID-19, climate change, and a pandemic response that threatens to exclude the most vulnerable, peace must be central to crisis response. This year's statement was signed by over 200 organizations and calls on the international community to recognize that "without peace, development will falter; without justice hope will wither; and without inclusion, we will all be left behind."
Building off of this assertion, the statement calls on Member States to take the following steps to place peace at the center of international cooperation:
Refocus on peace, justice and inclusion, in development, in crisis response and in addressing the climate emergency
Mainstream and step up investment in peace
Prioritize inclusion and protect human rights and fundamental freedoms
Step away from securitized responses
In addition, QUNO distributed a press release on the statement, which was shared widely with media contacts covering the United Nations.
Related Files
Related Areas of Work