QUNO launches new publication How to be a Hero for all our Children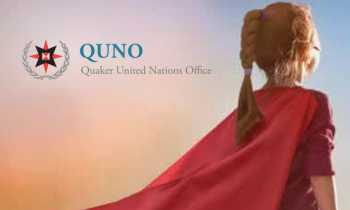 QUNO's Human Impacts of Climate Change programme is pleased to launch their new publication "How to be a Hero for All our Children". Gathering climate science from the latest reports of the Intergovernmental Panel on Climate Change (IPCC), alongside suggested personal actions and questions for politicians, "How to be a Hero" is an accessible resource to share with local communities and as part of educational initiatives.
"How to be a Hero" is offered as an A6 booklet in English, Spanish and French. This booklet is designed as a conversation starter or to put through doors, and features colourful graphics to engage new readers and visual learners. While there is also an A5 'extended' version available from May 2021, it has not yet been updated or translated. Yet, both publications offer full bibliographies that link readers to the relevant IPCC reports, offering easy and direct access to the climate science given to governments. The publications are accessible online and via a "print at home" version which can be used for campaigning and personal distribution. To request a physical copy of the publication, please contact Andres Naranjo at anaranjo@quno.ch.
"How to be a Hero" completes a trilogy of publications dedicated to education and capacity building on climate action across different audiences.  It was preceded by the "Government Official's Toolkit" which focused on communicating with policy makers and UN colleagues, and the "People's Climate Empowerment Series" that is intended for those interested to learn from climate efforts taking place at the international level.
Related Areas of Work