QUNO attends Virtual 53rd Session of the IPCC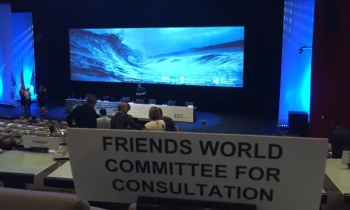 QUNO, representing the Friends World Committee for Consultation (FWCC), is the only faith-based observer of the Intergovernmental Panel on Climate Change.  Its 53rd (bis) meeting was recently held online from 22-26 March and involved over 200 participants, primarily States, IPCC Secretariat, and several observers.
QUNO's Representative for Climate Change, Lindsey Fielder Cook, made two interventions during the week long plenary.  She urged States to act beyond political and economic vested interests expressed in the room, and instead to focus on the common call to protect their citizens, and the human family as a whole, from avoidable temperature rises that would lead to unprecedented suffering and loss of life to humans and nature. She emphasized the extraordinary efforts of the IPCC to produce quality reports even in urgent times, and urged States to trust IPCC guidance on the appropriate pace and support needed to continue producing high-quality reporting for finalizing the 6th Assessment Report (AR6), and into the cycle of the 7th Assessment Report. 
Related Areas of Work