Sustaining Peace: A report on how human rights can help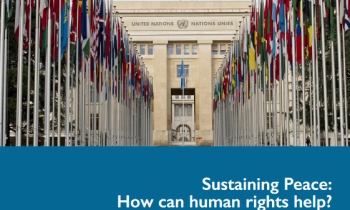 As part of long-term work on integrating human rights and sustaining peace, QUNO has written a public report entitled 'Sustaining Peace: How can human rights help? 2016 – 2020 retrospective.' The report builds on learnings from a joint project with the Office of the High Commissioner for Human Rights (OHCHR), which focused on Operative Paragraph 11 of the 2016 Sustaining Peace resolutions.
The report reflects on a selection of key developments, opportunities, and challenges in integrating human rights in sustaining peace in relation to intergovernmental outcomes, policy frameworks and instruments, and UN reform processes. It also highlights areas for strengthening collaboration and coherence, including:  
The need to further operationalise and integrate sustaining peace into policies and programming, particularly considering the continuing fragmentation across sectors and pillars in the UN system and despite a growing recognition and understanding of the concept.
The suggestion that human rights bodies and mechanisms should continue to reflect on how sustaining peace functions can be integrated into respective mandates. This should be coupled with efforts to ensure that their recommendations guide the PBC's efforts to formulate peacebuilding responses.
The fact that these efforts should also help to build the evidence base of the relevance and added value of human rights approaches and actions, and how they should be applied in joined-up and multidimensional sustaining peace efforts in all States - another key area for continued action.
A call for lingering misconceptions or reticence to be addressed by multiplying opportunities to exchange and learn from each other.
While the report does not claim to be comprehensive, it hopes to serve as a basis for continued reflection, learning and discussions following the 2020 Peacebuilding Architecture Review and resulting twin resolutions.
Related Files
Related Areas of Work