QUNO Releases Briefing Paper and makes a Statement at the 48th Session of the Human Rights Council on Racial Justice and Migration Governance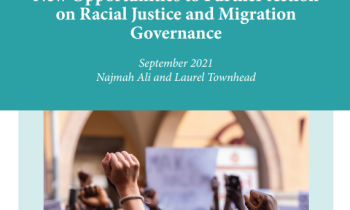 The Human Rights and Refugees Program (HRR) at QUNO Geneva is pleased to announce the release of its latest briefing paper titled: New Opportunities to Further Action on Racial Justice and Migration Governance. The paper outlines the new United Nations' mechanisms for racial justice and highlights possible actions and links with migration governance. The High Commissioner for Human Rights has set out a four-point agenda towards transformative change for racial justice and equality. It calls for transformative change through the following means:
-STEP UP  -PURSUE JUSTICE  -LISTEN UP   -REDRESS
This agenda provides a useful framework for the briefing paper and for the new UN mechanisms to advance racial justice. These new mechanisms include the Human Rights Council International Independent Expert Mechanism and the Permanent Forum of People of African Descent. In addition, the International Migration Review Forum, although its primary aim is not focused on racial justice issues,  provides an opportunity to seek racial justice within the implementation of the Global Compact for Migration.
In line with the briefing paper and connected to our vision for migration justice, Marisa Leon Gomez Sonet HRR Programme Assistant, made a video statement at the Human Rights Council General Debate on Item 9 of the agenda: Racism, racial discrimination, xenophobia and related forms of intolerance: Follow-up to and Implementation of the Durban Declaration and Programme of Action.
We see racism rampant in migration governance. As called for by the High Commissioner, an intersectional lens to understanding racism is a critical tool to advance human rights and justice. In our statement, we called for cooperation among the United Nations, Member States, civil society, affected communities, and other relevant stakeholders to advance anti-racism policies and actions that result in stronger protections for the human rights of migrants.
Related Files
Related Areas of Work