QUNO Participates in the Global Launch of the UN Community Engagement Guidelines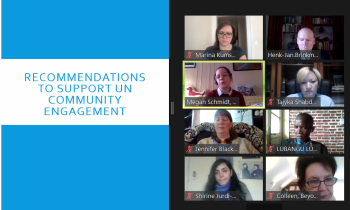 The Global Launch of the UN System-wide Community Engagement Guidelines (UNCEG) was an opportunity to present key recommendations from this new tool, which was designed to help strengthen partnerships between the UN and civil society for peacebuilding and sustaining peace. QUNO's Quaker UN Representative, Megan Schmidt, joined the panel of representatives from the UN and civil society to reflect on ways forward for implementation and practical application of the recommendations.
In response to an increasing focus on strategic partnerships with civil society, and the Secretary-General's 2018 call for the creation of UN system wide guidance on community engagement for peacebuilding and sustaining peace, efforts were undertaken to develop and launch the Guidelines. This included the establishment of a joint UN-civil society working group of which QUNO's New York office was a member, which spent the last two years developing this tool. After receiving feedback from over 400 UN and civil society colleagues and over 40 video calls with UN staff and partners across the globe, the working group produced the Guidelines, which includes seven core recommendations and a dozen country examples to support work at the field level.
The event allowed the global peacebuilding community to hear from panelists and the working group on the importance of this new tool and explore practical applications in country-specific work. The people-centered nature of these guidelines and the emphasis on local leadership reflect QUNO's perspective on the centrality of inclusion for UN policy and practice. As Ms. Schmidt noted, "building or strengthening partnerships and engagement between the UN and communities in a meaningful and transparent manner grounded in equality and safety will enhance our shared and collective efforts to build and sustain peace." QUNO greatly appreciates the opportunity to participate in the development of these guidelines and looks forward to seeing how they are implemented by UN colleagues in different contexts throughout the world.
Watch the event here.
Related Files
Related Areas of Work