Connecting Civil Society Organizations and UN Peace and Development Advisors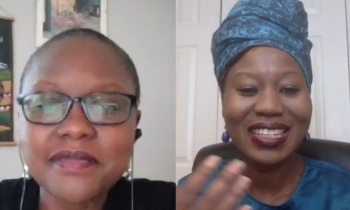 As co-facilitator of the Civil Society – UN Prevention Platform, QUNO co-hosted a meeting entitled 'Responding to Socio-economic and Humanitarian Impacts of COVID-19 Through Civil Society - Peace and Development Advisor Partnerships.' This discussion was jointly hosted with the UN Development Programme (UNDP)-Department of Political Affairs (DPPA) Joint Programme on Building National Capacities for Conflict Prevention, which currently deploys over 56 Peace and Development Advisors (PDAs) around the world. 
Since 2016, the Civil Society-UN Prevention Platform has contributed to trainings and discussions with PDAs, on how they can effectively engage with civil society. Launched in 2004, the PDA program is a joint initiative between UNDP and DPPA to support country-level conflict prevention. PDAs are tasked with supporting UN Resident Coordinators. They work on the premise that 'national actors are best placed to carry preventive work forward.' In practice, this means many of their efforts focus on ensuring the inclusion of stakeholders and elevating national ownership in all initiatives towards building more resilient, just, and peaceful societies.
The work of PDAs is greatly enhanced by stronger partnerships with civil society organizations (CSOs) with nuanced contextual understanding and grassroots credibility. Challenges abound, however, for PDAs to connect to local civil society organizations in country settings. Many of these challenges are structurally inherent to the position. PDAs are frequently only deployed to an individual country for one or two years, impeding their ability to build trust-based relationships and networks with civil society actors. PDAs also have limited capacity and resources, which impacts their abilities to engage with civil society that operate outside of country capitals. 
This discussion provided a forum for PDAs, UN leadership, and CSOs to share innovative opportunities for collaboration between PDAs and civil society in responding to the impacts of COVID-19. QUNO was especially pleased to see the breadth of ideas and examples shared by all participants as together we sought to explore how to strengthen UN and civil society partnerships. Participants also focused on ways to leverage the unique potential of civil society to connect with formal resources, combat misinformation, and harness local problem-solving initiatives. Many emphasized that local peacebuilders are especially well-positioned to focus on building local resilience and social cohesion, while also calling attention to the many pre-existing structural deficits that the pandemic has revealed such as pervasive socio-economic inequalities and inadequate social protections.
The discussion revealed the multitude of diverse experiences in supporting national and local responses to the COVID-19 pandemic and emphasized the ongoing relevance of meaningful partnerships. Participants expressed strong interest in future opportunities for exchanges around Civil Society – PDA collaborations.
Related Areas of Work