QUNO speaks at the resumed 43rd session of the Human Rights Council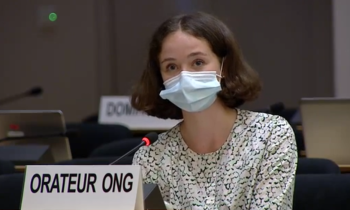 QUNO was pleased to deliver a statement at the resumed 43rd session of the Human Rights Council on 15 June in Geneva, as part of the Item 5 General Debate on Human Rights Bodies and Mechanisms. The statement, delivered by Programme Assistant for Peace and Disarmament, Cara Priestley, welcomed the rapporteurs' report on the contribution of the Human Rights Council to the prevention of human rights violations, pursuant to Resolution 38/18.
QUNO highlighted some particularly positive elements of the report, such as the recommendations to imbue Special Procedures with a stronger prevention lens and for investigative bodies to include risk-factor analyses. In addition, it was highlighted that the report's suggestions on achieving stronger collaboration between the Council and the UN's Peacebuilding Architecture, in particular the Peacebuilding Commission, are welcome steps. With human rights violations so often the root cause and consequence of destructive conflict, integrated working across all pillars of the UN system is crucial.
The full statement is available to read below, and can be viewed online here from 1:43:17 onwards (or from number 42 on the right hand side scroll bar).
The link to the rapporteurs' report can also be found below.
 
Related Links
Related Files
Related Areas of Work