QUNO and GPPAC submit recommendations for the UN Peacebuilding Architecture Review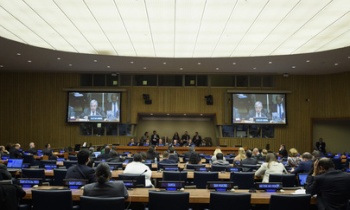 2020 marks fifteen years since the creation of the Peacebuilding Architecture at the United Nations (UN), which includes the Peacebuilding Commission (PBC), Peacebuilding Fund (PBF) and the Peacebuilding Support Office (PBSO). This UN architecture was created after recognizing that there were no dedicated bodies or funding to support and accompany countries emerging from and rebuilding after conflict.  
Every five years the UN undertakes a review of the architecture and the system's work to build sustainable peace, including in fragile and conflict affected states. The reviews provide an opportunity to assess progress and impact for peacebuilding, identify remaining challenges and set the UN's peacebuilding priorities for the coming years.  
QUNO, in partnership with the Global Partnership for the Prevention of Armed Conflict (GPPAC), submitted a set of recommendations and key messages to inform and influence the 2020 review. The submission built upon our past work with GPPAC, including the publication of our reports, Filling the Gap and Building Sustainable Peace. Focusing on the topics of structural and operational partnerships, financing for peacebuilding and operational and policy coherence, this joint document was sent to UN and Member State colleagues to support the review and the longer-term work of the Peacebuilding Architecture. We look forward to working with our UN colleagues to explore how to implement the recommendations and support the continued advancement of the United Nations' ability to build and sustain peace.
Related Files
Related Areas of Work