QUNO Virtually Co-hosts Discussion on the Role of Young People in Preventing Conflict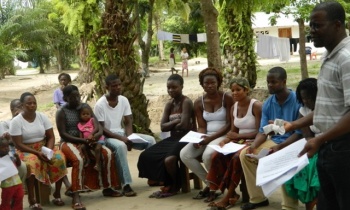 On 30 April, QUNO was pleased to co-host "Dialogue and Mutual Understanding: the Role of Young People in Preventing Conflict," a virtual discussion that brought together over 35 United Nations (UN), civil society, and Member State experts as part of the Civil Society-UN Prevention Platform's 2020 discussion series on prevention. The Platform's discussions aim to support and contribute to building the collective capacity of the UN community to advance prevention particularly as it relates to the Secretary-General's vision for prevention. 
As the second event in the Platform's discussion series, this conversation advanced participants' understanding of the contributions the Youth, Peace, and Security (YPS) Agenda. Colleagues reflected on the holistic and cross-cutting nature of the Agenda, discussed existing youth-led prevention strategies, and outlined the roles of various actors in supporting the YPS Agenda. It also provided avenues to explore how best practices can be translated in different contexts, learn from challenges, and develop concrete recommendations on how Member States and the international community can support young people in affecting positive change and preventing conflict.
The discussion was particularly timely, as it provided an open space for dialogue and input following the Security Council's teleconferenced session on the progress of the Youth, Peace and Security Agenda. Reflections on the fifth anniversary of the Agenda, set out in Security Council Resolution 2250, were also provided in the Secretary-General's report published in March. The Platform was particularly pleased to bring together a wide range of diverse voices and perspectives, including those of youth peacebuilders.
The Civil Society-UN Prevention Platform aims to support the UN's prevention agenda through strengthening coordination and information sharing between civil society organizations (CSOs) and the UN at all levels. As co-facilitator of the Platform, QUNO previously hosted the series' launch in Quaker House and looks forward to future discussions in this series.
Learn more about the other discussions in these series:
Taking Stock of Prevention: Progress Achieved and Lessons Learned
Prevention and Implications of COVID-19: Learning from Transformative Gender Approaches
Related Areas of Work