QUNO and PBSO convene a discussion on the impact of COVID-19 and the Gender and Youth Promotion Initiative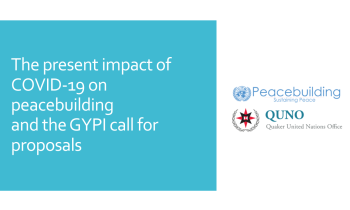 With the international community adjusting to the far-reaching implications of COVID-19, QUNO and the Peacebuilding Support Office (PBSO) convened a global virtual meeting with civil society organizations to discuss the impact of this health crisis on peacebuilding. The meeting was also a timely opportunity to learn more about this year's annual Peacebuilding Fund's (PBF) Gender and Youth Promotion Initiative (GYPI), including the impact of COVID-19 on the call and application requirements.  
The discussion began by hearing from civil society and UN partners on the impact of COVID-19 on programming and peacebuilding globally. Colleagues shared that the impact of COVID-19 risks exacerbating existing tensions and risks in some societies, and that in some contexts national capacities and institutional responses may be too weak to prevent or mitigate the health crisis. Restrictions on movement and gathering, which is needed to prevent the further spread of the virus, means that community-level peacebuilding activities have been halted. In some countries, these restrictions are being conducted with force, which may lead to an increase in human rights violations. Peacebuilders are grappling with how to adjust their programming to support communities experiencing crisis, and to ensure that humanitarian responses have long-term, transformative impacts for societies.    
While the effects of this global health crisis are severe, participants also shared opportunities that are emerging. Local peacebuilders are often well situated to articulate the long-term needs of communities to national authorities and can play a potentially critical role right now in uplifting the needs and concerns of underrepresented populations. While many participants noted that they work with divided and fragmented communities, they shared that COVID-19 requires a unified response and can therefore provide an opening to bring people together. Additionally, participants agreed that this challenge also shows the need to work across sectors like peacebuilding and humanitarian response to better coordinate initiatives for more meaningful impact.   
After spending time reflecting on the impact of COVID-19, the conversation transitioned to learn more about the Peacebuilding Fund's annual GYPI call and the transitions being made in light of the current crisis. The PBF has included direct funding opportunities for civil society organizations through the GYPI since 2016, and QUNO has since worked with the PBSO to convene annual discussions for learning and exchange on the funding call. UN colleagues shared that they are undertaking necessary measures to adjust the GYPI application process to be more flexible to the needs of peacebuilding organizations in light of the global pandemic. Participants learned more about the specific requirements for this year's call, including thematic priorities, the application process, and the timeline for submission and project implementation. Participants welcomed learning about the adaptations and requirements for the GYPI, and for the timeliness of the discussion. 
Related Files
Related Areas of Work