QUNO contributions at the 52nd meeting of the IPCC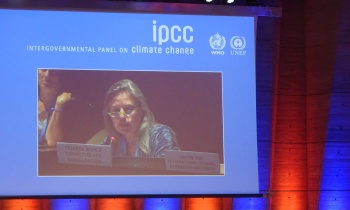 QUNO, through the Friends World Committee for Consultation (FWCC), is the only faith-based observer at the Intergovernmental Panel on Climate Change (IPCC).  The IPCC collates the latest climate research worldwide to advise governments on effective climate policy.  At the latest IPCC Meeting, held from 24-28 February in Paris, countries negotiated an outline for the Synthesis Report of the upcoming 6th Assessment Report, to be released in 2022.  Content in the Synthesis Report is critical as few policy makers read the entire Assessment Reports, which are often over 1000 pages long.
QUNO's Representative for Climate Change, Lindsey Fielder Cook, made four interventions during the week. These related to the addition of (or protecting existing) language on the essential role of civil society/public participation, rights-based approaches to climate action, non-economic losses and loss and damage when calculating 'costs', and 'behavior change' to help reduce greenhouse gas emissions and adapt to locked in climate change.  All four interventions (available in the PDF below) were reported in the Environment Negotiations Bulletin (see link).  In addition, QUNO met with various country negotiators to help find acceptable language on sensitive areas.
Related Links
Related Files
Related Areas of Work