QUNO moderates panel for the Interfaith Liaison Committee to the UNFCCC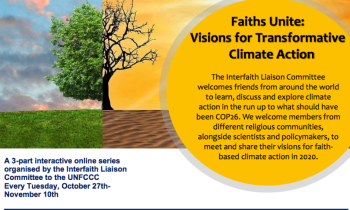 With the postponement of the 26th Conference of the Parties under the UNFCCC (COP26) to November 2021, many in the climate sphere are reflecting on how to keep up the momentum on international climate negotiations as well as support increased ambition on climate action in 2020. This was the central topic discussed by panelists on the "COP26: Ramp Up the Ambition" panel co-hosted by QUNO as part of the "Faiths Unite: Visions for Transformative Climate Action" online events series last week.
The three-part event series, taking place between 29th October and 10th November, has been organized by the Interfaith Liaison Committee to the UNFCCC and welcomes members from different religious communities, alongside scientists and policymakers, to meet and share their visions for faith-based climate action. Lindsey Fielder Cook, QUNO Representative for Human Impacts of Climate Change, moderated a panel of experts in a wide-ranging discussion that covered both the moral prerogatives for climate ambition and the practical steps to be taken on developing national and international climate policy. The event offered an opportunity to convene a wide-range of voices on climate action, with a facilitated exchange between panelists and attendees on their own understandings of what 'climate ambition' means in 2020.
The QUNO moderated event from 3rd November can be accessed via the following link. A report summarising the event can be accessed below.
Related Links
Related Files
Related Areas of Work