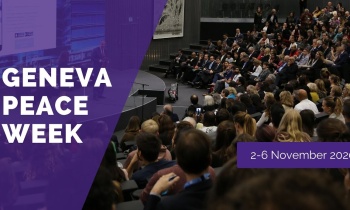 QUNO is proud to be one of the institutional partners behind the Geneva Peacebuilding Platform, the organisation that runs Geneva Peace Week – a leading international peacebuilding forum. This year's Geneva Peace Week was delivered in a fully online format and featured three events co-organised by QUNO.
Alice Munnelly, QUNO's Peace & Disarmament Programme Assistant, moderated an interactive discussion on Rethinking Security, which was co-organised with the Geneva Peacebuilding Platform. The session was framed around the question of whether national and international security have been over-emphasised at the cost of community and individual needs and rights. Participants shared their experiences of secure and sustainable living, whether individual or collective, and offered visions of how to help shift the concept of security from its state-centred confines to a more inclusive, people and planet focused notion.
QUNO's Representative for Peace & Disarmament, Florence Foster, moderated a side event entitled 'Prevention and sustaining peace: human rights in action'. The event, which was co-organised with the Dag Hammarskjöld Foundation (DHF) and the United Nations Office of the High Commissioner for Human Rights (OHCHR), featured introductory remarks by the the UN Assistant Secretary-General for Human Rights and the Ambassador to the UN for Switzerland here in Geneva. Discussion reaffirmed the intrinsic links between human rights and peacebuilding and made the case for greater coherence across the UN's three pillars. You can read more about the event in the attached report.
QUNO's Human Impacts of Climate Change programme co-hosted an event on "Peace and Climate Action: Challenges and Opportunities from Latin America" as part of the Friday programme on Environment, Climate, Conflict and Peace. The student-led event was co-organised with PeaceNexus Foundation and the Environment Committee and Latin American Network Initiative (LANI) of the Graduate Institute, Geneva. The event centered the youth voice in a lively online discussion with panelists who included the Special Rapporteur on the Rights of Indigenous Peoples, the Co-Executive Director of AIDA (Asociación Interamericana para la Defensa del Ambiente) and the Former Director of WWF International.  Panelists stressed the need for effective climate action that is responsive to the context in which it is being implemented and offered reflections on the different forms that this can take.
QUNO's peace & disarmament programme team also spoke at a Virtual Careers Fair for students of the Graduate Institute Geneva, and in a Global Town Hall Meeting on the topic 'A New Vision for Peacemaking'.
The website to this year's Geneva Peace Week, featuring digital content that includes videos and podcasts can be accessed here.
Related Files
Related Areas of Work