QUNO and the UN Peacebuilding Support Office host a conversation on the Peacebuilding Fund investment plan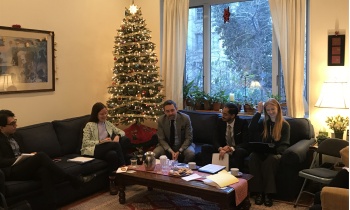 The UN Secretary-General's Peacebuilding Fund (PBF), launched in 2006 and managed by the Peacebuilding Support Office (PBSO), is the United Nations' financing tool and investor of first resort in countries emerging from or at risk of descending into violent conflict. Through its programming, the PBF supports peacebuilding processes, addresses crucial gaps to build peace, and provides rapid resources when support may not yet be available from other funding mechanisms.  
Gathering at Quaker House, QUNO, in partnership with PBSO, convened a consultation with civil society organizations on the PBF's upcoming Investment Plan for 2020-2024. The Plan will serve as the strategy for the Fund over the next five years as the PBF seeks to mobilize 1.5 billion USD for peacebuilding. 
The discussion, which included participation from civil society from throughout the world, provided a unique opportunity to learn about the priorities of the upcoming Investment Plan. Participants, many of whom are implementing PBF projects, shared their experience and ideas on how the Fund can strengthen its peacebuilding impact, including through continued partnerships with civil society. A number of key themes emerged in the discussion, including how PBF projects can better support conflict prevention; what trends may face peacebuilding over the next five years; how lessons learned from PBF projects can better inform peacebuilding going forward; and what more can be done to strengthen partnerships with civil society to build sustainable peace.  
QUNO looks forward to continuing to work with PBSO and our civil society colleagues as the Investment Plan is finalized and released in 2020. 
Related Areas of Work