A Transformative Middle Ground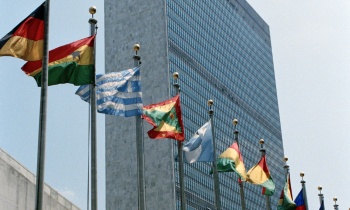 QUNO New York's Director, Andrew Tomlinson, was pleased to have an interview with fellow Quaker organization, the Friends Committee on National Legislation. Speaking with Chris Kearns-McCoy, a Program Assistant with FCNL's Communications team, Andrew reflected on Quaker work at the United Nations.
When reflecting on why Friends care about the UN, Mr. Tomlinson shared that "The UN charter, particularly the introductory segments, is largely one that Quakers could have written. A huge amount of the charter is about trying to prevent war, and that resonates for Friends." Andrew also spoke about the unique approaches that Quakers bring to peace work at the United Nations. "We explicitly set out to bring in different voices. So, in our work with member states, we are reaching out not just to hear and to understand but to engage delegates from many different countries to together try to discern paths forward."
To read the full interview, please visit here.
Related Areas of Work