QUNO hosts discussion on the impact of UN transitions on peacebuilding and development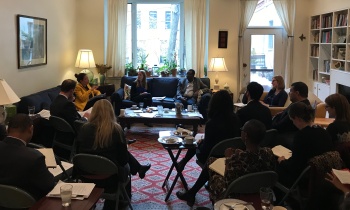 Transitional periods are very sensitive and dynamic times for countries emerging from conflict, bringing hopes and concerns to places with a history of political instability and violent conflict. In the past decade, a number of UN peacekeeping missions have closed down leading countries to the next step in their transformation processes, and shifting how the UN and international community supports peacebuilding and development. 
In April at Quaker House, QUNO hosted an expert-level conversation on the impact of UN transitions on peacebuilding and development. The gathering provided an opportunity for members of the Peacebuilding Commission (PBC) and UN colleagues to openly and constructively talk about best practices and challenges as the UN implements a cross-pillar, peacebuilding approach to transitions. The discussion also welcomed participation from a Liberian civil society organization, bringing real life perspective and experience on the impact and challenges for peace and development following the closing of the UN peacekeeping mission in Liberia – UNMIL. From this, participants also reflected on the impact of the Peacebuilding Commission's role in supporting peacebuilding approaches in those transitions. There was  consensus that there is the need for planning earlier for UN transitional processes; the critical role of inclusive national ownership; and the importance of sustaining political and financial engagement throughout and following transition processes.
This will be the first in a series of thematic conversations hosted by QUNO to support and contribute to the work of the Peacebuilding Commission and its membership, with the aim to uplift and deepen peacebuilding knowledge and experience. 
 
Related Areas of Work