QUNO attends Global Donor Platform for Rural Development in Brussels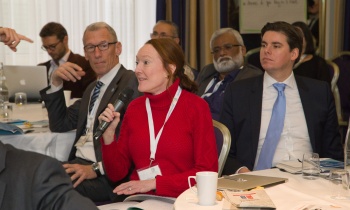 QUNO's Food and Sustainability (F&S) programme representative Susan H. Bragdon attended the AGA this year to discuss the Agenda 2030 and how the new framework of global development priorities can be supported to achieve food and nutrition security for all.
Today, half the world's food is produced by 1.5 billion small-scale farmers. However, while small-scale farmers contribute so much to global food security, they are often poor or very poor, and food insecure themselves. Of the hundreds of millions that go hungry daily (almost 1 billion), millions are rural, poor small-scale farmers. Decline in small-scale farmer livelihoods has increased rural-urban migration rates, as 54 percent of the world population now lives in urban areas, which is reducing food production and eroding food security (UNDESA, 2014).
QUNO therefore appreciated the opportunity to participate in the AGA, in particular in the discussions around the role of agriculture considering the new SDGs and the challenges of climate change as they relate to food security, small-scale farmers and agricultural biodiversity. 
Related Links
Related Areas of Work